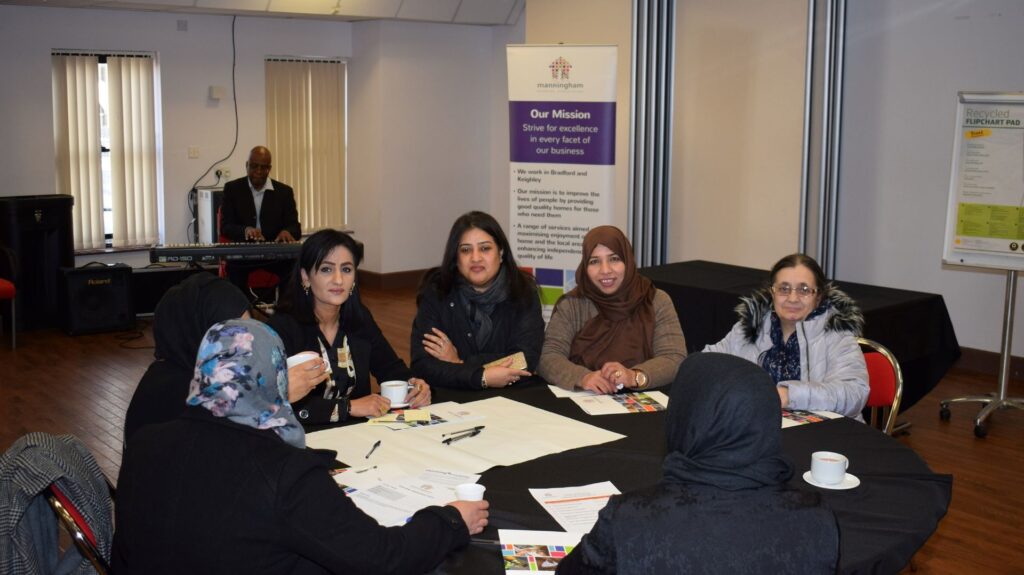 Building Bridges Bradford
The pandemic inevitably required most businesses and community organisations to reduce social contacts. However, Manningham Housing Association (MHA) took the opposite approach with the launch of Building Bridges Bradford.
Spearheaded by its Community Engagement team, the project sought to bolster community resilience, enhance societal awareness across diverse communities and challenge racism, prejudices and community division through a range of social action activities.
Building Bridges Bradford had three strands – community conversation, connecting communities and good neighbours events – coupled with online and outdoor exercise sessions as well as coffee mornings.
Overall progress was immense with many users receiving continued support including help to access jobs and training, digital engagement, and mental health assistance through user-led groups, all facilitated by community volunteer champions.
The project has received lots of encouraging feedback from users.
Naheeda on confidence building training: "The sessions were very positive and encouraging for me. I felt guilty to leave my mother to do things for myself. I now understand that it's important for me to look after myself so that I can continue to look after them, otherwise I was at the brink of burn out."
Resident on seated exercise for BAME women aged 50+: "I have not exercised in so long and I look forward to these sessions every week. I feel young again! This makes me happy."
Resident on budget planning and saving. "The sessions helped me recognise that the way I was managing money was an unhealthy coping technique response to my mental ill health. The course helped me to face my financial worries, budget and look at ways that I could save better for the long-term future of my family and me."
Resident on mental health awareness: "Sharing my phobia with others and understanding that some of us have similar phobias has made me feel at ease. I am more aware about the different types of mental health issues we face in our daily life. This course has impacted me to make positive changes to my life."
Over the period of the Building Bridges Bradford project, the team achieved:
Engagement with 2240 beneficiaries.
1258 had direct support through attending multiple activities/sessions on wellbeing with over 65% reporting personal improvement to mental health.
25 new (bottom-up) community initiatives were developed and launched.
40 service users were supported on the employment project with 7 service users moving into full-time employment and 14 becoming volunteers.
39 black and Asian women benefited from online business coaching of which 6 are setting up a business.
412 beneficiaries reported improved physical mobility and reduced obesity through online and outdoor sporting sessions. 292 young people (8–24) and 120 female adults (24+) reported improved physical health.
275 service users including those from marginalised groups (LGBTQ, refugee, and disabilities) benefited from community conversations and good neighbours day sessions of which over 56% reported improved community relations, better understanding of hate/race crime and healthy cultural friendships with fellow participants.
98 service users (including 9 young children) reported improved healthy eating through participating and attending healthy cooking sessions on low budgets.
The team developed good working relationships with 25 small groups for continued collaboration and partnership working.
The local e-Community Partnership network was strengthened to include 80 local groups.