Case Studies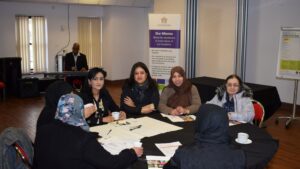 The pandemic inevitably required most businesses and community organisations to reduce social contacts. However, Manningham Housing Association (MHA) took the opposite approach with the launch of Building Bridges Bradford. Spearheaded by its Community Engagement team, the project sought to bolster community resilience, enhance societal awareness across diverse communities and challenge racism, prejudices and community division…
"Raising the Bar is a fantastic way to recognise and share best practice within the region. We were delighted to win an award, our team of Solenis volunteers work really hard in the Science Lab, for kids and fully deserved the recognition."
Solenis (formerly BASF)
Joanne Love, Site Communicator
"Raising the Bar celebrates the positive impact that companies are making on the local community. We're working with many local schools, promoting engineering and construction; and we're delighted to have our efforts recognised. The awards ceremony allowed us to see some of the other amazing initiatives, which are having positive impacts across Yorkshire." 
Curtins
Suzanne Cocker, Business Development Assistant
"Our mission is to be a leader in the integration of communities by providing interpreting, employment and impactful social return initiatives to support people to live healthier, happier lives. Winning the Raising The Bar award allows us to shine a light on our work and to celebrate all those involve in making a difference in people's lives."
Enable2 CIC
Liz Weatherall, Managing Director
"We've been supporting the Bradford community for over 100 years now and it's been fantastic to be recognised as a responsible business at the Raising the Bar awards and for our team to receive the acknowledgment they deserve for all their hard work and commitment to our home city."
Naylor Wintersgill
Victoria Wainwright, Managing Director
"Winning the Raising the Bar community award is an honour that means a lot to everyone at Roche Legal as it has allowed us to showcase the extensive community and charity work we undertake. It is incredibly inspiring to be recognised alongside other small businesses who also do such wonderful work for the benefit of local people and organisations. We will continue our commitment to support local good causes and look forward to organising many more events and initiatives in the years to come."
Roche Legal
Rachel Roche, Managing Director
"Raising the Bar has been a fantastic initiative for helping us with our social responsibility aims. Winning an award in 2018 was great recognition for our team and inspires us to continue to help the local community."
Hungate by Lendlease
Steven Graham, Community Liaison Manager
"Winning a Raising the Bar award in 2018 was excellent recognition for our team and inspires us to do more to improve our local environment."

Mott MacDonald

Emma Wren, Principal Hydrologist
"Raising the Bar is a great way to benchmark yourself and to get recognition for something that most businesses are doing anyway. Winning an Award provided our team with a great sense of achievement and pride."
B&M Waste Services
Jayne Kennedy, Marketing Manager 
"The awards themselves are inspirational, it's great to see the work that others do, and a chance to share ideas."
Jayne Talbot - Christeyns
Jayne Talbot