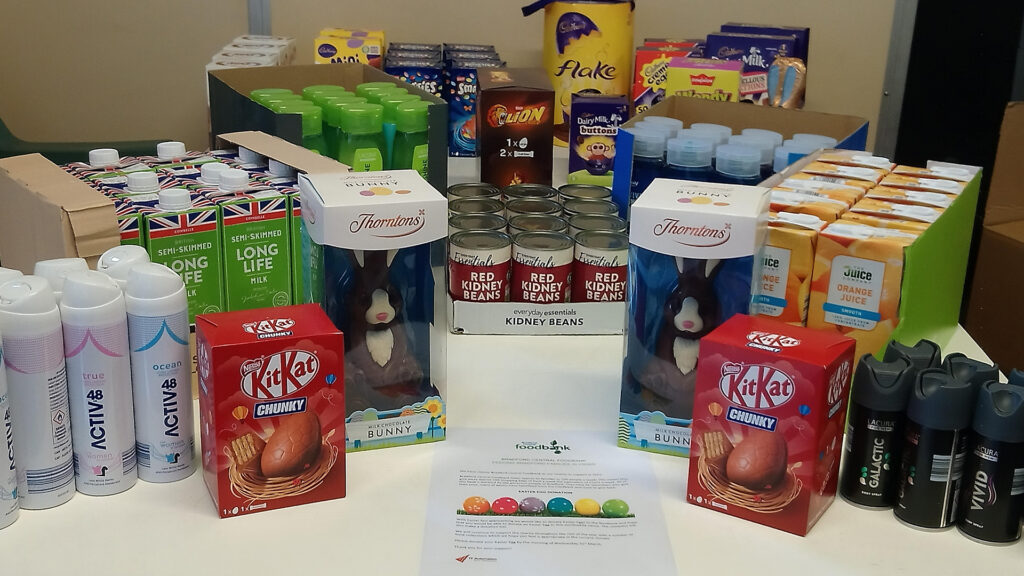 TF Automation chooses Bradford Central Foodbank as its 2021 charity
TF Automation has decided to support Bradford Central Foodbank as its charity for the year in 2021. To kickstart our support, the company requested Easter Egg Donations from staff and 25 were donated from our small team of 19. As well as the Easter Eggs, the company also donated around £40 worth of essential items such as toiletries, long life products and other tinned food.
TF will continue to support the food bank through the year with regular collections and donations and will work with the food bank team to identify the best times for those collections and what items they most need at those points in time.
Bradford Central Foodbank helps approximately 50 families or 100 people a week! This means they give away approximately 169 shopping bags of food a week: the equivalent of £1375 a week. All of this food is donated by the generous people of Bradford. They have 45 volunteers who give their time, many of whom have benefited from the Foodbank and want to give back.
We have already received great feedback from the Foodbank team, "We just wanted to say a massive thank you for your very generous donation of 73 meals recently! This is so wonderful! We've been blown away by the compassion and generosity that you and Bradford's community has shown – it's been a shining light in the darkness."
TF Automation has always supported local grassroots sporting clubs covering rugby, football and cricket, as we feel it is important to invest in our local community activities. We have regularly donated funds to help to buy kit, equipment and to upgrade facilities, as required.
We are currently supporting the Under9's squad from West Bowling Rugby Club who play in the Yorkshire Junior League with new kit for last season and this coming season. We have also donated to Bolton Woods Junior Football Club for this season to help fund new kit also. Low Moor Holy Trinity Cricket Club has also benefitted from a donation to improve changing facilities in the club house.
Tony, MD at TF Automation, added, "We are pleased to be able to support local sports teams to help with the development of their young players, both boys and girls. We look forward to seeing how all the clubs progress this season following a challenging year!"
Scott, head coach for U9's at West Bowling Rugby Club commented, "We really appreciate getting TF Automation involved in our shirt sponsorship and we thank them for their kind donation. The parents and volunteers all work really hard fundraising each year, but we still need to rely on corporate sponsorship to ensure all the players have the right kit that is fit for purpose."