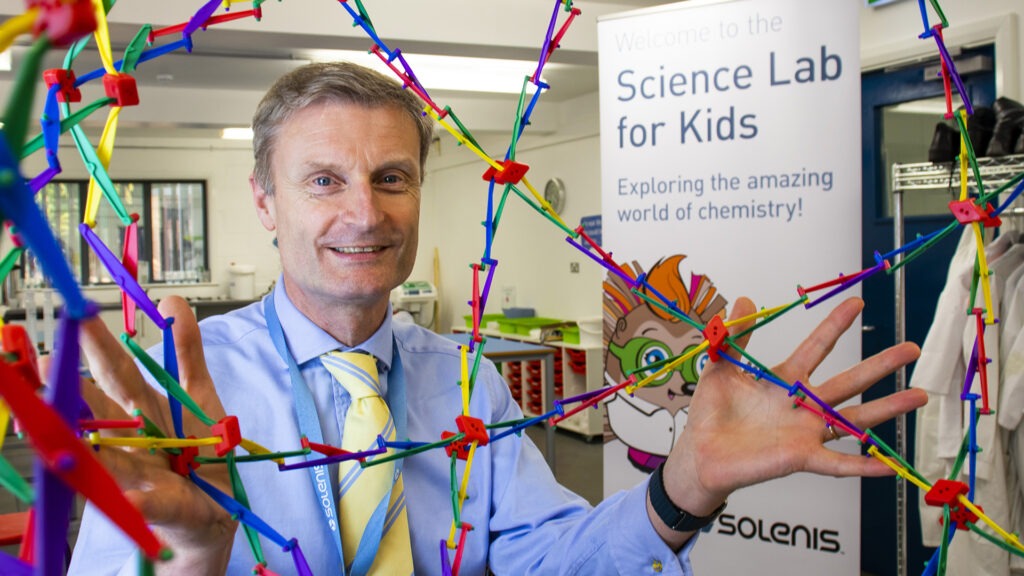 Solenis in Bradford (formally known as BASF), manufacture products for the water treatment and paper industries. Following their win at the Raising the Bar Awards in 2018 we caught up David Calder, Site Manager, to find out what the award win meant to Solenis and how other businesses can manage their social impact.
Why do you believe businesses need to work with the local community?
"I really feel strongly about working in partnership with the community. Businesses need to let people know why they exist, what they are doing and how they can positively impact the community. I think it's important that we work with our neighbours, local residents, schools and local businesses as working together creates a positive force."
For the last nine years Solenis has run the Science Lab for Kids. David explains what this is and the benefits: "We get 400 skilled kids every year coming through the doors of our Science Lab for Kids. All the children get dressed up in lab coats, wear protective glasses and undertake experiments to help them understand why chemistry has such a positive impact in their everyday life. It's really good because it gives them an insight into science and chemistry within the business world and they may think of it as a career path in the future. In addition, the children go home and talk to their parents and family members about their experience, spreading the word about what we do here at Solenis."
Solenis run an apprenticeship program employing between ten to twelve apprentices every year, with many of their apprentices visiting the Science Lab for Kids during their time at school. David said: "It is great for us to know that the years of effort put into the Science Lab for Kids is having a positive impact and making them think about their future careers."
How did Solenis become involved with Raising the Bar?
"We heard about the initiative a couple of years ago and I remember going to the first Raising the Bar awards ceremony and thinking 'wow this is really good because you can see how other organisations are working with the local community'. I came away from the event thinking we're doing good things at Solenis, that can be showcased to help other businesses and highlight what we are doing. It's great to get people outside the organisation to recognise that the Solenis Science Lab for Kids is a great thing. We know it is but it's always nice to get somebody else telling you. The awards are great and deliver a real feel good factor."
Last year Solenis were winners of the Education Award. What did this mean to the business and your employees?
"We were absolutely delighted to win the Raising the Bar Award for Education last year. It's really good to get recognition from other people and businesses about the good we're doing at Solenis. We know how much good work we do with local schools and local community, but it's really nice when others tell you that as well. Solenis have over 70 Science, Technology, Engineering and Mathematics (STEM) Ambassadors who help with the Science Lab for Kids, visit local schools and organisations, to talk passionately about the chemical industry and the positive impact of science. The awards are great recognition for these ambassadors also. This year Solenis are delighted to get involved in Raising the Bar and to sponsor an award, because we want to encourage other organisations to work with the local community."
What can other businesses do to improve their social impact?
"One thing businesses can do is look and see what is happening in the local community. Look at the organisations that exist such as schools, care homes as every organisation has skills and resources that they can use to help add value. If you have the opportunity to work in partnership with another local organisation give it a go. If you get involved with the local community it's a win, win, win situation because it's a win for the local community, it's a win for the organisation and it's also a win for the employees."