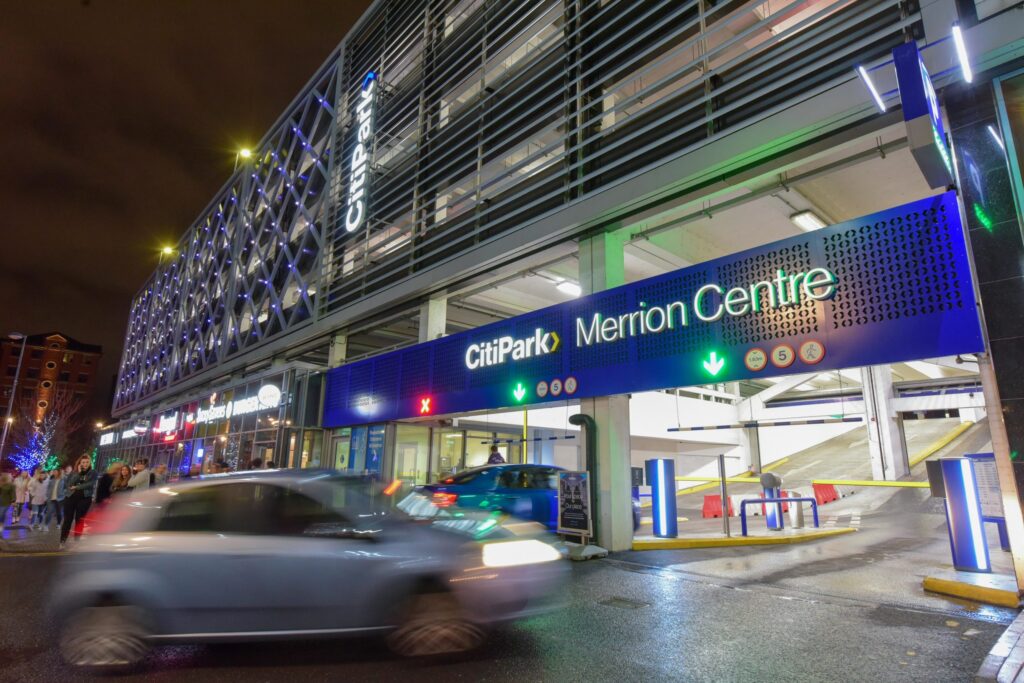 Town Centre Securities supports NHS Staff throughout the pandemic
Town Centre Securities PLC (TCS) has launched a series of initiatives to support the NHS during the Coronavirus pandemic including free car parking with CitiPark, concessionary hotel accommodation and lighting its flagship car park blue to mark the heroic work of NHS staff.
In addition, TCS is also championing schemes set up by its extensive tenant base, including exclusive shopping slots for NHS workers, the elderly and vulnerable.
These initiatives follow on from an open letter by TCS Chairman and Chief Executive, Edward Ziff OBE DL who is also Chairman of Leeds Cares, the charity partner of Leeds Teaching Hospitals. In his letter and accompanying video, Mr Ziff urged Yorkshire businesses to back a Leeds Cares charity appeal for NHS hospitals and its healthcare workers.
TCS subsidiary and leading parking operator, CitiPark,
TCS subsidiary and leading parking operator, CitiPark are providing free parking for NHS workers in support of their hard work and dedication during the Covid-19 outbreak at a variety of car parks nationwide.
The Merrion Centre, TCS' single largest asset, has given use of its ibis Styles Leeds City Centre Arena hotel which is located close to the LGI and is currently one of the only hotels in Leeds to remain open to further support hardworking NHS staff.
In line with the current Government guidelines, several supermarkets and pharmacies with stores at TCS' largest single asset, the Merrion Centre, will remain open for essential items and offer exclusive shopping slots set up for the elderly, vulnerable and NHS workers.
Iceland, Morrisons (open for NHS workers only between 7-8am), Boots Pharmacy, Heron Foods, Home Bargains, Holland & Barrett, Sing-Kee Supermarkets, the NHS Sexual Health Clinic and Wilkos have all remained open (albeit with some operating reduced hours).
Several tenants based at the Merrion Centre in Leeds Arena Quarter are also backing the cause by quickly adapting their businesses to offer delivery services to customers. Independent operators including the Chilli Shop, Bubble Tea and Hook & Line have been quick to react in ensuring they continue to offer products to consumers staying at home.
In addition to their new delivery service, owners of the award winning My Thai on Wade Lane are operating a 'soup kitchen' service (#inittogether) serving food to key workers and the vulnerable that are unable to leave their homes.
Edward Ziff, Chairman & Chief Executive, TCS commented: "Each of us will have our own stories about how the NHS has been there for us in time of need. My own son Jacob was cured of childhood leukaemia by hospital staff in Leeds. As the NHS prepares for its own challenging and difficult days ahead, I urge Yorkshire businesses to pull together to do what they can to support NHS staff working on the front line.
"We hope our own and the initiatives of our tenants will go some way to help vital healthcare staff in these unprecedented times, as well as the elderly and vulnerable who have been impacted. Our ibis Styles Leeds City Centre Arena hotel and the CitiPark Merrion Centre car park have now been made available to Leeds Teaching Hospitals for as long as they are needed throughout the outbreak and we look forward to welcoming their hard working teams."